Showing that 'Every Little Helps', TESCO, has thrown its support behind Krizevac Project in a special book recycling project that is transforming the lives of some of the world's poorest children. Customers of the Uttoxeter supermarket, or anyone wishing to help, are being invited to bring in their old books when they come to shop. Other branches of TESCO are looking to throw their support behind this great venture soon.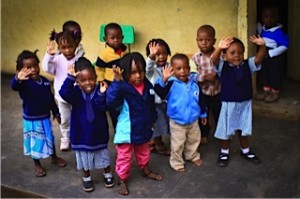 Head of Tesco Customer Service, Hannah, was excited to launch the new scheme. "We're keen to help this local charity and support members of our local community who want to help those less fortunate than themselves. We are making it easy for Tesco's customers to clear space in their homes and recycle old or unwanted books while helping others. Customers can find the yellow collection bins at the back of the tills in TESCO Uttoxeter until further notice. We are encouraging everyone to support this worthwhile cause and bring in their old books, even if they don't normally shop with us."
Charity Resources Manager, Zoe Kasiya, has been encouraged by the news. "You can't beat books as a way of helping. Some are used in Malawi for children's reading and others are sold to raise funds. We send a 40 foot container of goods to Malawi every other month with thousands of books. Oddly, shipping books actually reduces what we pay in duty on other construction equipment we've been sending."
Other book collection points can now be found in various locations in Abbots Bromley, Staffordshire: St Mary's Catholic Church, Top Shop, Richard Clark Primary School, St Nicholas Church, The Church of the Sacred Heart, and the Krizevac Project Office in Radmore Lane.