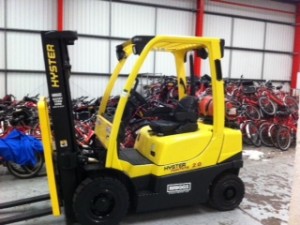 Gavin Wickham, Operations Director of Britain's most successful forklift truck company, Briggs, was delighted to hand over the keys of a robust and reliable forklift truck to Resources Manager, Zoe Kasiya last week. "This forklift is a real godsend," Zoe told us. "Our volunteer teams have been lifting and shifting growing volumes of equipment, often manually, so this fork lift truck will mean we can safely and quickly get the donated kit off to Malawi."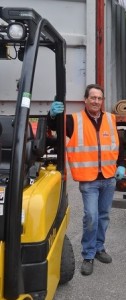 Krizevac Project logistical operations have become a significant international activity, annually collecting, storing, loading & shipping thousands of bicycles, hundreds of thousands of books, and specialised machinery & equipment.  Zoe Kasiya faces no-shows, late deliveries and disappointments with determined cheerfulness, and calmly rides the rough waters needed to deliver essential equipment where it is most needed.
Briggs, a company known for their good work in the community, have supported Krizevac Project since 2012 when they first donated a wide range of furniture. Timing of this donation couldn't have been better since it came at the completion of a major Krizevac-funded construction project, the Mother Teresa Children's Centre, which cares for children under 6 in the township of Chilomoni, Malawi.

Krizevac Project has been shipping containers to Malawi since 2007, full of essential equipment securing growth and sustainability for enterprises. It's a remarkable fact that , by the end of 2013, we have sent a total of 65 containers. In the last financial year we've shipped 4,588 bikes, 664 sewing machines and approximately 40,000 books as well as a host of plant and construction equipment..