Many thanks from all at Krizevac Project to the team at JCB World Headquarters, Rocester, for their kindness towards children at Mother Teresa Children's Centre. Suvi Toropainen, Marketing and Communications Manager for JCB Africa and Middle East contacted Krizevac to say they would like to donate some special JCB  toys as a Christmas gift to the children we help to care for in Malawi.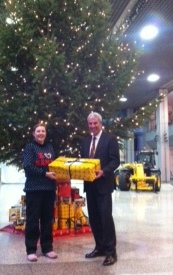 Zoe Kasiya, Krizevac Resources Manager visited JCB yesterday to find a beautifully wrapped parcel, addressed to the children in Chilomoni under the huge Christmas tree at JCB. The gift was presented by David Bell, Chief Corporate Development Officer on behalf of the whole JCB team.
Santa will have to get his skates on or have an extra sprinkling of fairy dust to help the parcel make the 5000 mile journey to Malawi in time for the big day! But we'll be doing our best to make sure all the children enjoy a very happy Christmas in the "Warm Heart Of Africa".
Thank you JCB, for all your help and support throughout 2013.