Malawi – A Day in the Life of BeeBikes
Beebikes is one of 10 enterprises in the Beehive Centre for Social Enterprise located in Chilomoni, Blantyre, Malawi. Malawi is one of the poorest countries in the world but ranks near the top of friendliest nations. The opportunity to work with the guys at Beebikes is a rare privilege.
Beebikes refurbish the complete range of bicycles which are collected in the UK and sent via container to Blantyre. The arrival of a container with a selection of 300plus bikes is cause for significant excitement to the residents of Blantyre.
The cycling stock is stored in containers in readiness for repair and sale. Customers will generally select a bike knowing that it may require a few days to fettle before being ridden away. Bikes may need to be combined to bring to full roadworthiness. Access to spares is a constant battle for most Malawian riders. An increased supply is a matter that needs to be urgently addressed. Beebikes is staffed by 5 mechanics, Brasil, Clement, Gift, Massa and Mike, managed by Boniface. A happy lot, they are working with limited resources but a resourcefulness that keep the wheels turning. Work commences at 7.30am. Containers are opened up and a display stock is lined up to attract passing custom.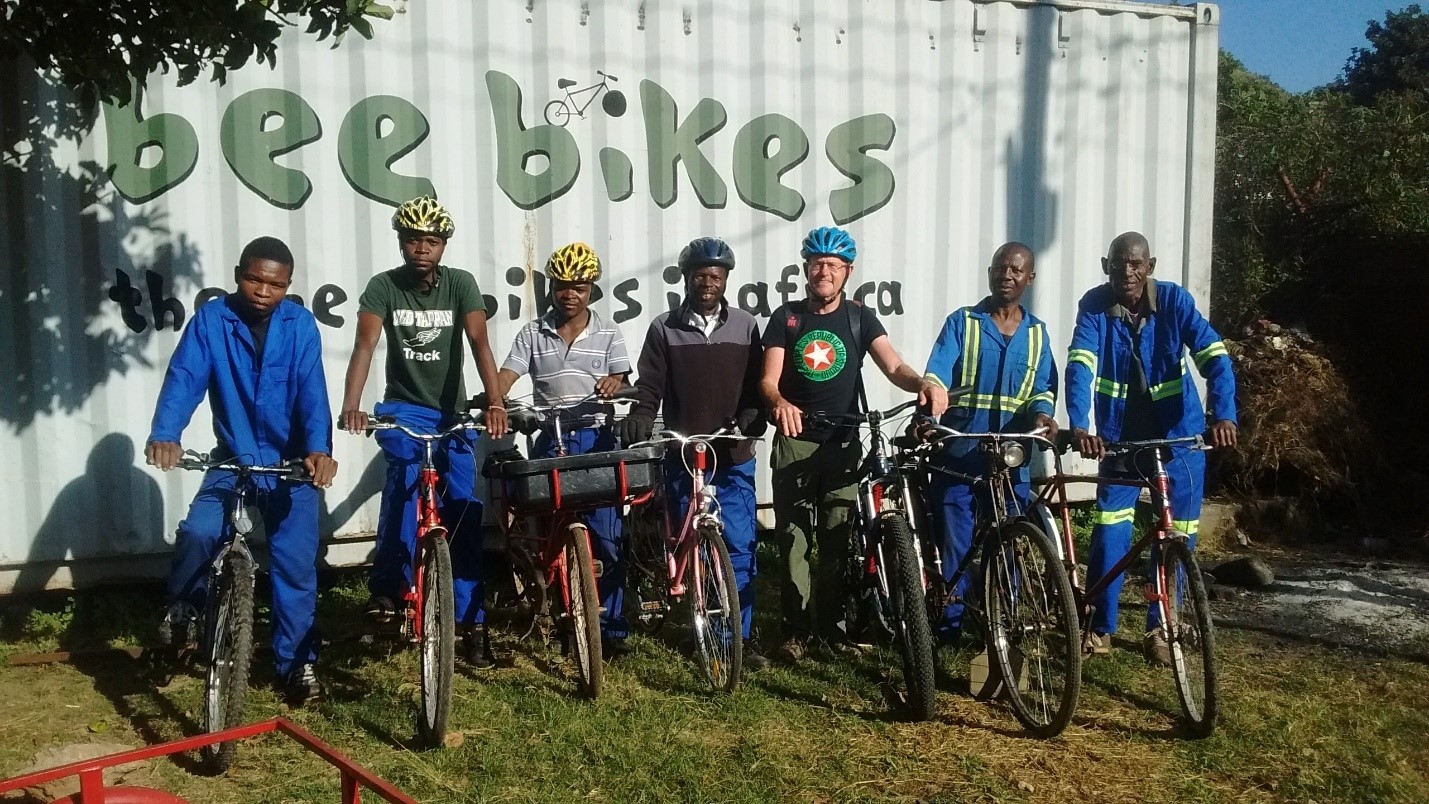 Customers arrive throughout the day and they have an interesting bike selection criteria, such as saddle width or frame colour. In addition to the desperate shortage of spares, tools are also in limited supply and as cycling evolves towards increasing complex braking, gearing and suspension systems the mechanics are forced into more imaginative use of tools and spares. It is great to see what innovation arises from necessity.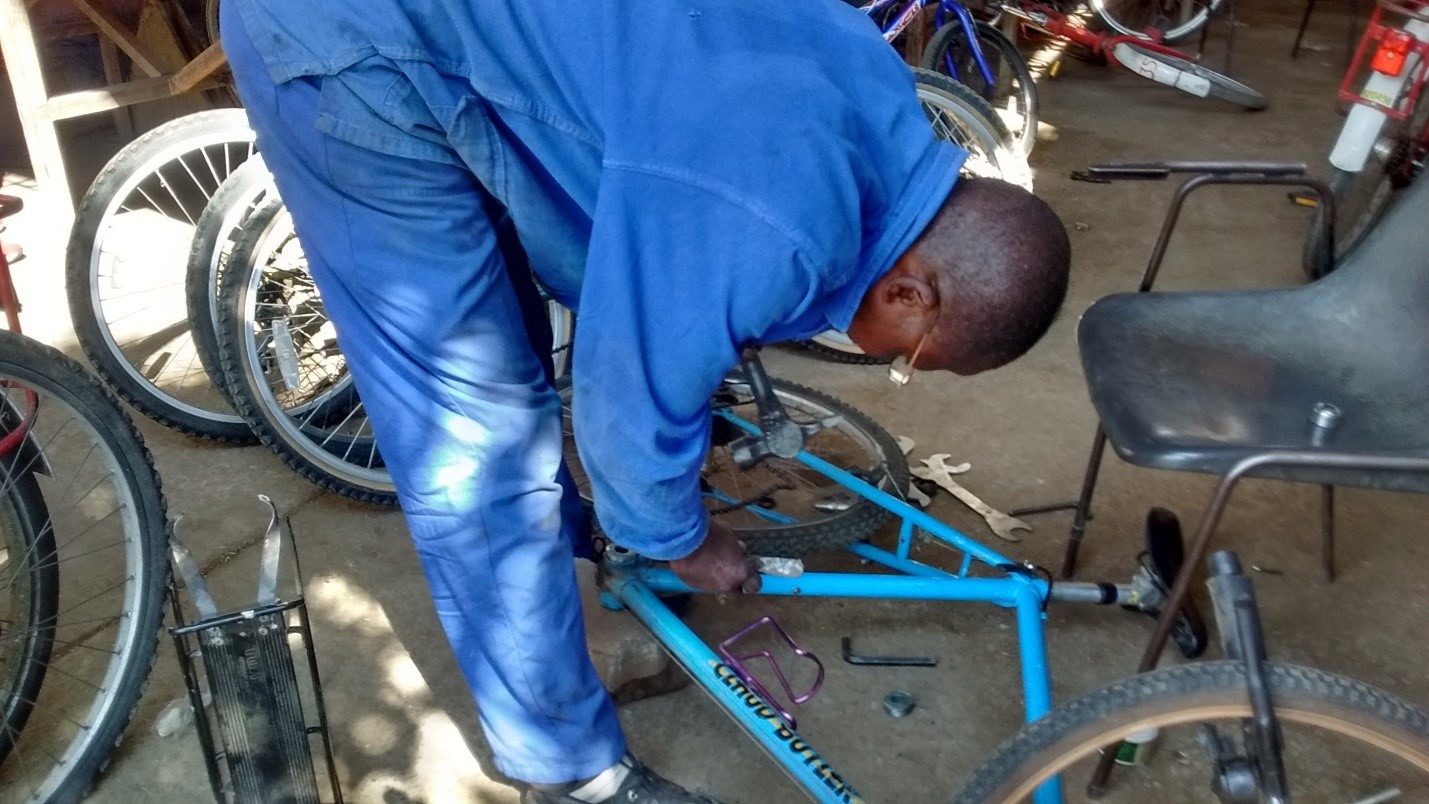 Gates are closed for an hour at 12noon on hearing the St James church bell toll. Lunch is usually a plate of Nsima, the Malawi staple, although supplemented from time to time with cassava, samosas or roasted grass hoppers if in season.
A result of the need to combine bikes is that a mountainous stock of cycle parts soon accumulates and in a country like Malawi where every object is precious, nothing is thrown away and the stock rapidly overwhelms the available storage. It is then time for the exceptionally popular 'Bits and Pieces' sale. News via word of mouth, posters and facebook, spreads rapidly throughout the Chilomoni Township and into nearby Blantyre, sometimes even as far afield as Mozambique such is the demand for bargain spares. Home mechanics trawl the stock selecting many an item that would be totally discarded by a western cyclist. Recycling to cycle, something the western world sould learn a lot from. Within a few days delighted customers can be seen riding bikes that only recently had been abandoned as scrap.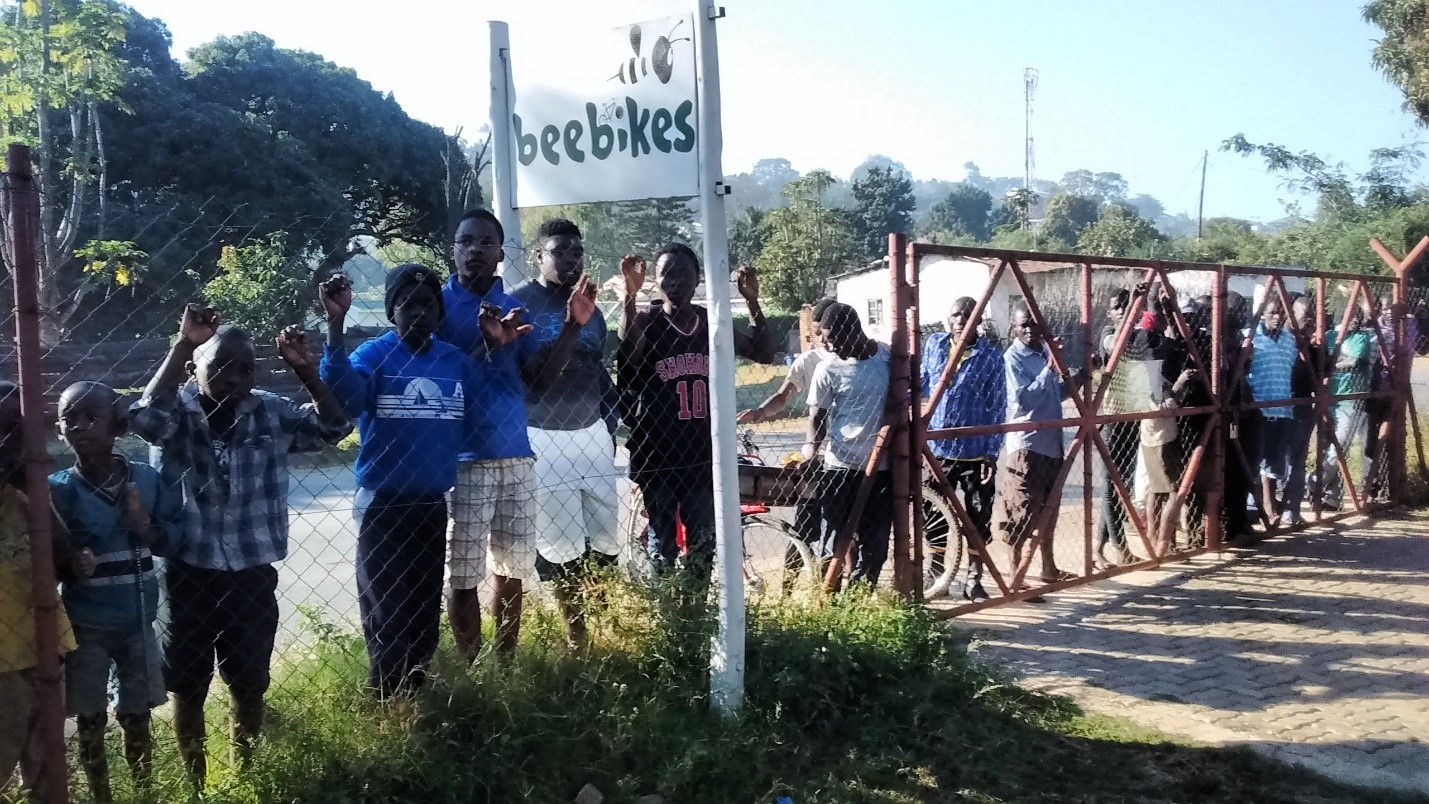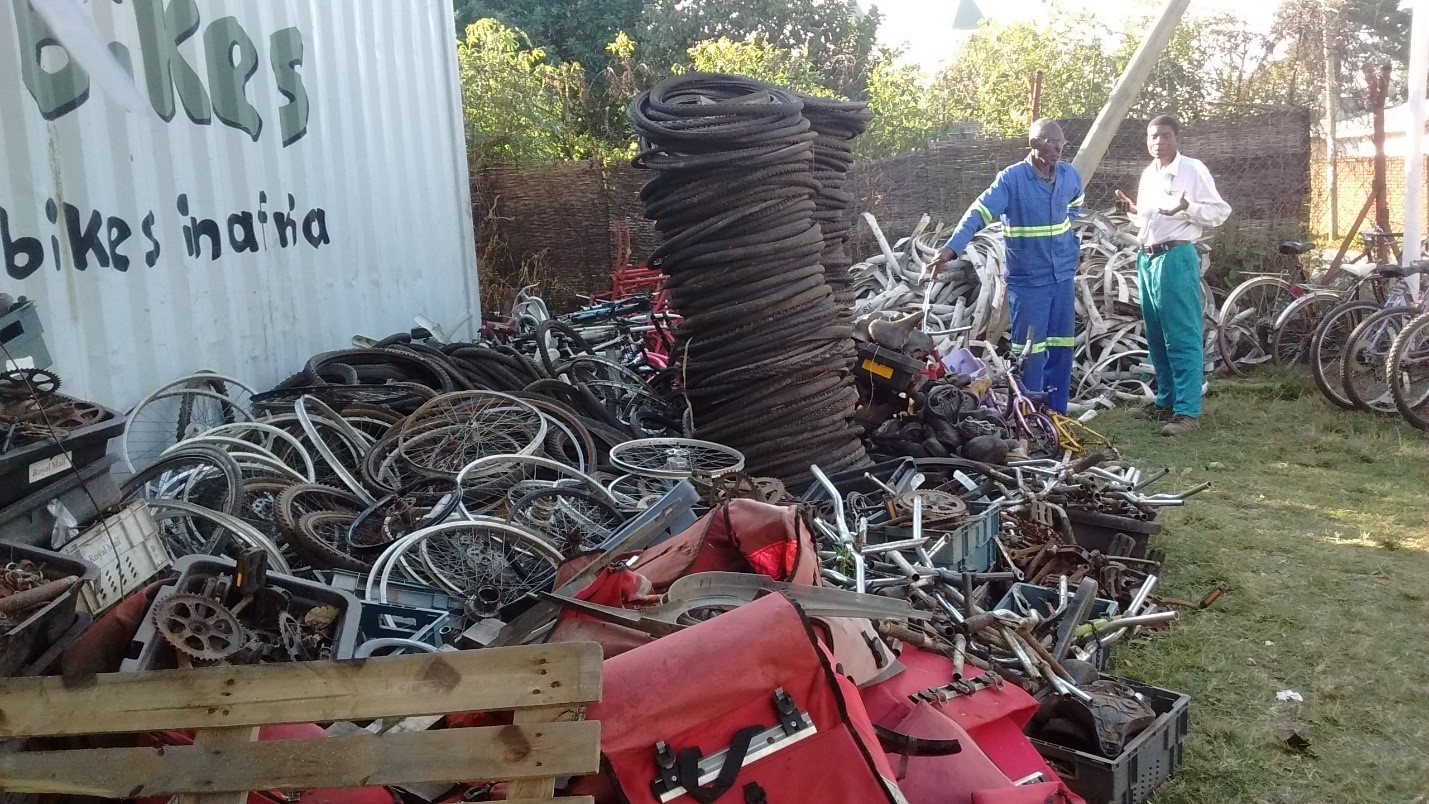 Malawi is a cash only economy and Beebikes is no exception. The largest denomination note in Malawi is 2000 kwacha ($3) and as bikes range in price between 50 000k and 100 000k, prospective customers must carry a huge wedge of notes to secure their purchase. (Imagine buying a car). A far larger issue is the general level of poverty in Malawi which holds back many Malawians from purchasing a bike.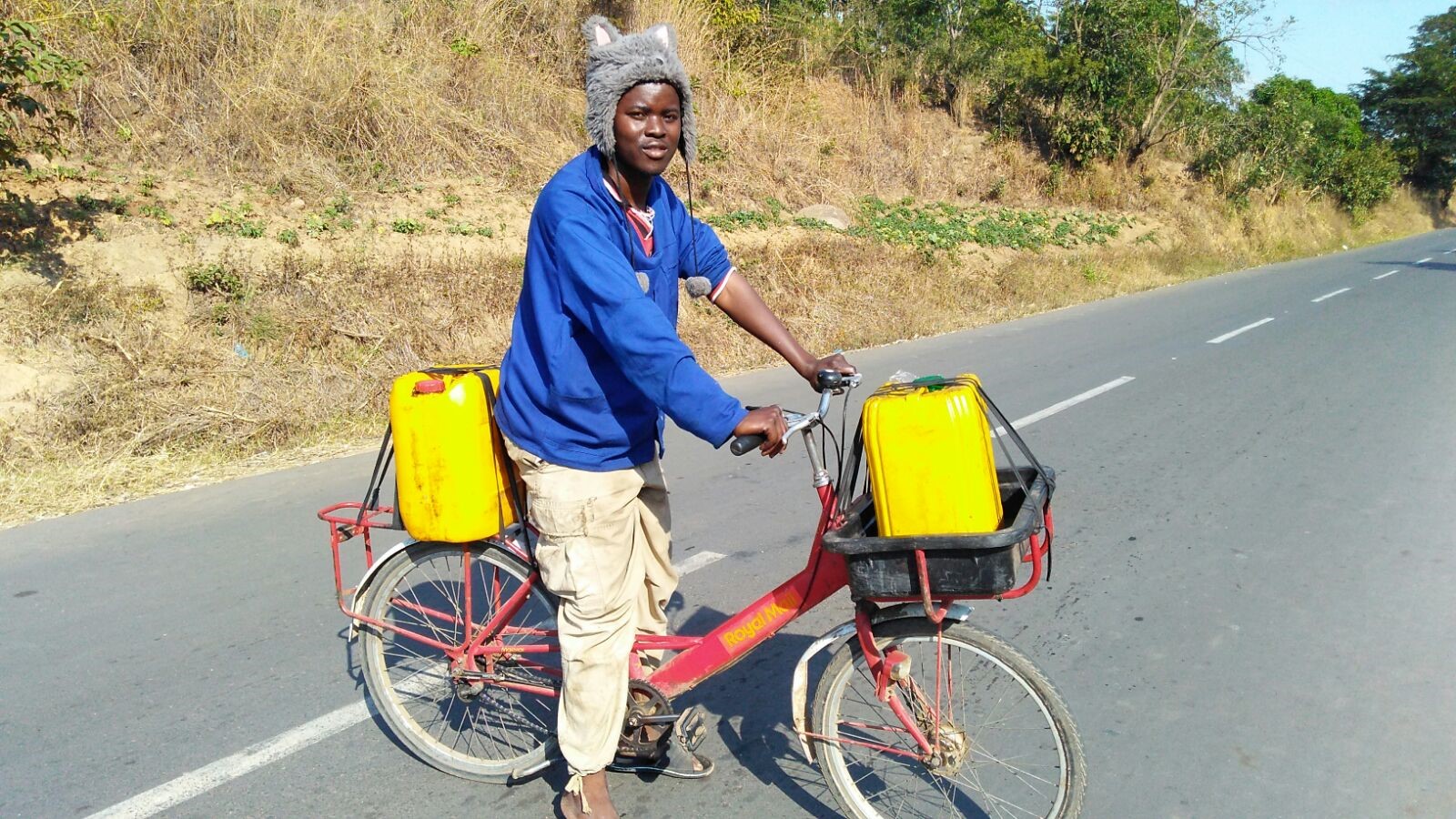 The mainstay of cycling in Malawi is its use as a means of transport. Taxi fares are relatively expensive and access to bikes makes an enormous difference to commuters and small business enterprises. At the most basic the bike operates as a glorified wheel barrow with downhill freewheeling potential. Most common charcoal sellers pushing up to 4 enormous bags of charcoal on one bike. Also around markets a common site is the taxi bike.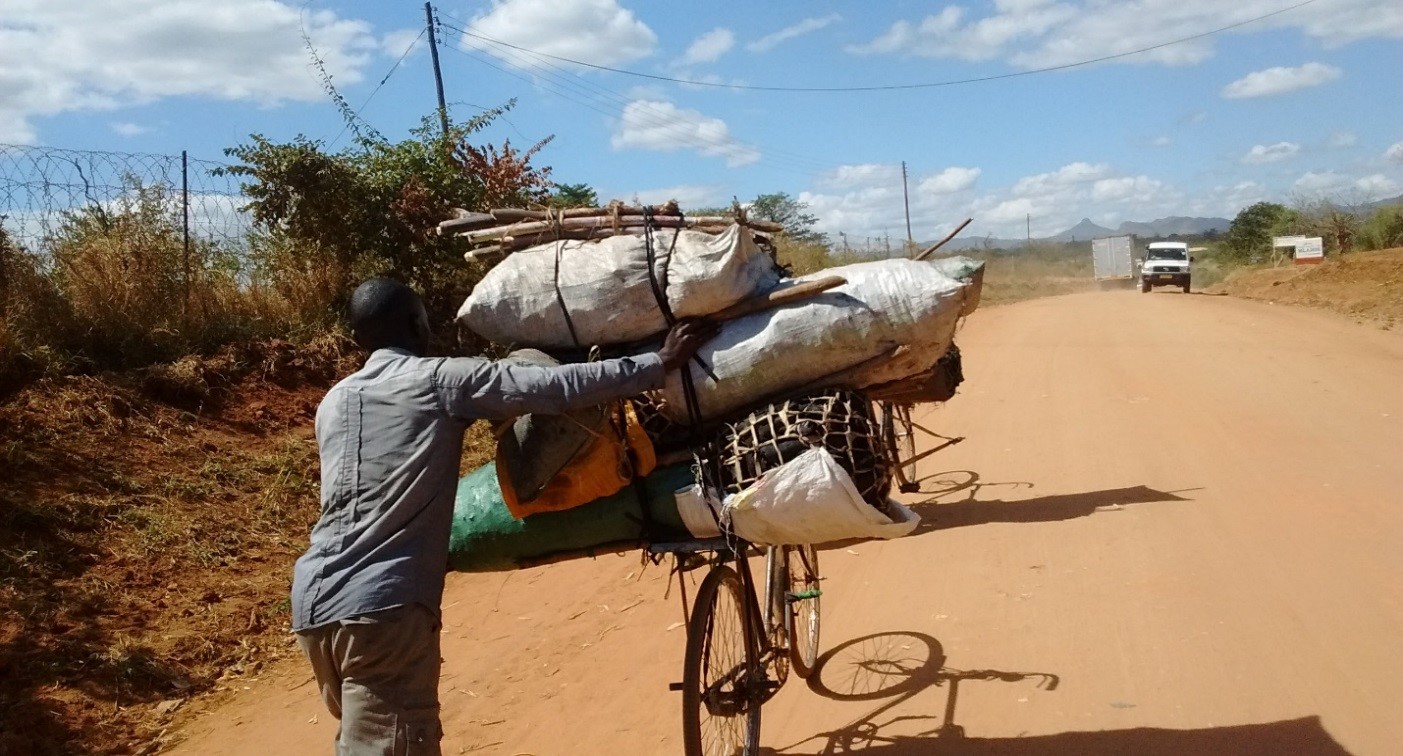 A strong cycling culture and interest in cycling is growing, starting with children who share the universal desire of freedom on their very own bike to adults who are beginning to recognize cycling as a desirable fitness pursuit. As more people start to ride, cycling can only grow in popularity. In addition many of the resident internationals have begun to recognize the massive off road cycling potential of Malawi. A successful national winter mountain bike series has recently started, offering superb routes through many of Malawi's most dramatic landscapes. (www.wsmtb.org)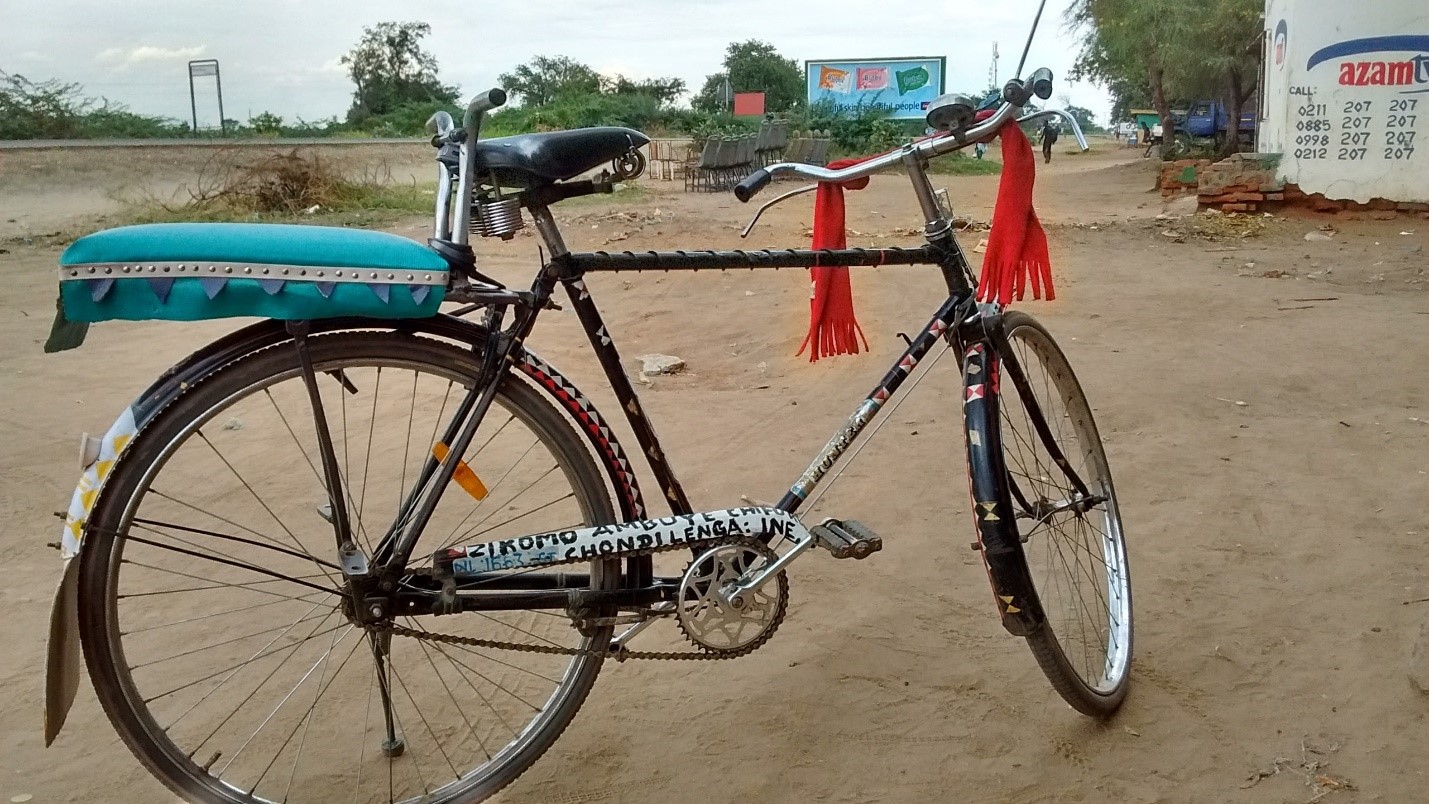 The demand for organizations like Beebikes to service the increasing demand for bikes in Malawi is certain to grow.
Graham and Caroline Denny July 2017