The last time we blogged about the Royal Mail bikes, it was to describe how they are helping an endangered species in Africa. This time, it's all about how an endangered species is helping us here in the UK!
As Royal Mail bikes are phased out, the mechanics who have looked after the bikes for years are being re-deployed into other roles. So a Royal Mail Bike Mechanic is now a rare species. Luckily for us, there are still a few of these precious people left and Adrian Ards, a RM Mechanic from Liverpool was kind enough to visit for a day. He came to show our team all the tips of the trade when it comes to keeping Royal Mail bikes in tip-top condition. This is going to be a huge help as we renovate a limited number of bikes ready for sale here in the UK.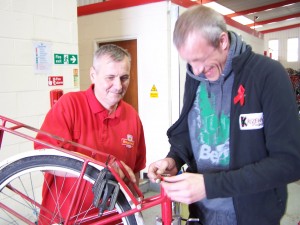 Once renovated, they'll be called "Elephant Bike". For every bike we sell, one will be donated to Africa and in addition 100% of money made will be directly benefiting our projects in Africa as well. So buying one of our Elephant Bikes means you grab a piece of British history and help vulnerable people in Africa too. All the bikes are fully re-furbished to an incredibly high standard and painted in a range of elephant friendly colours (confused? See our blog post from 19/3/2015 for an explanation!) We've just got the first few back from the prison who are doing the refurbishment and we think they look absolutely beautiful! It won't be long until we're ready to take orders, but you can let us know by email or phone right now if you are interested!