Jesus, you fall for the first time under the cross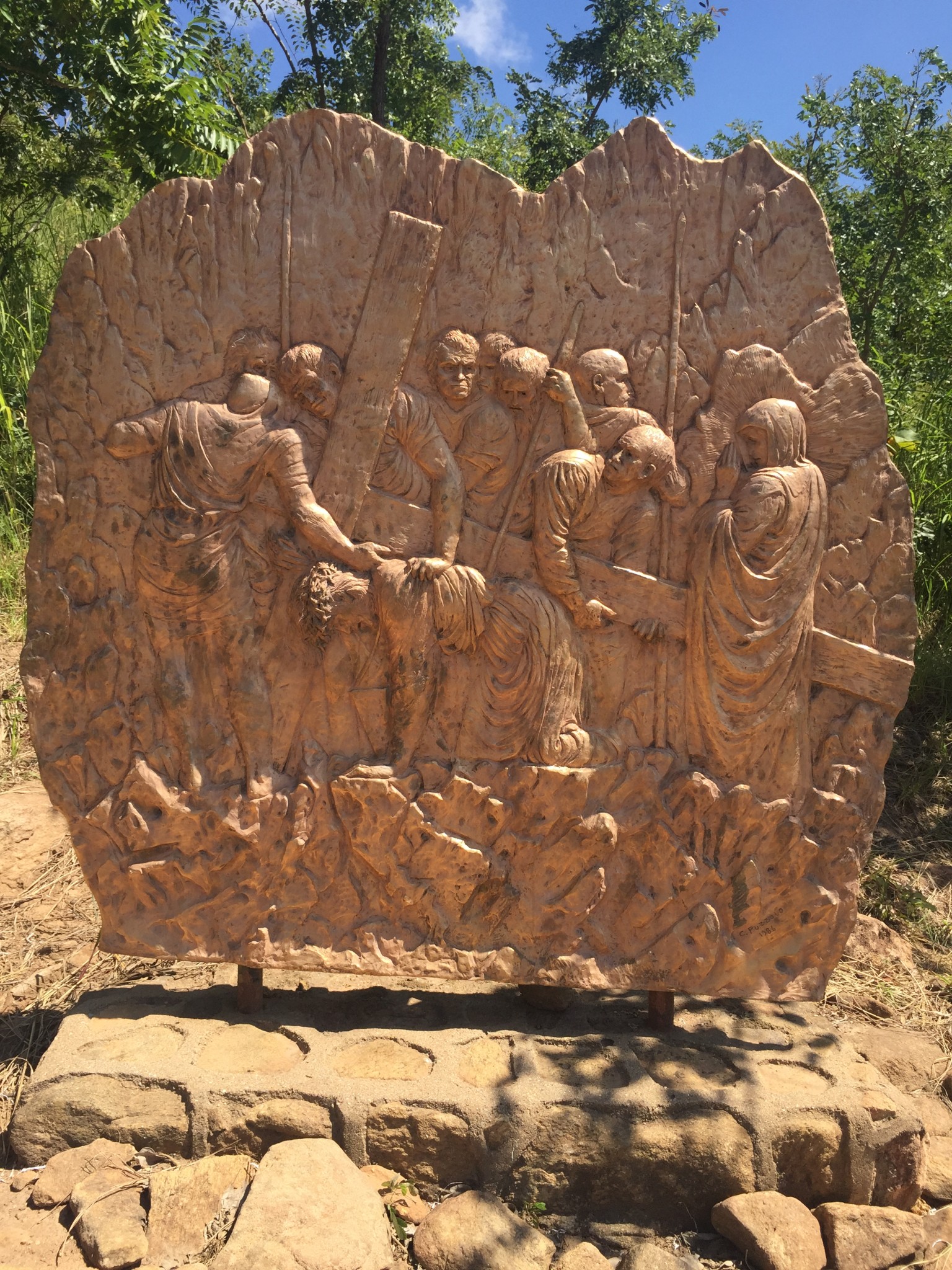 The weight of the cross is terrible. After only a few steps, Jesus falls. He has already suffered so much. The unmerciful beatings have weakened Him. The road is steep and difficult. Jesus tries to push himself up with His elbows. It appears as If He wants to use this fall to rest a little, but He is being pulled by His robes to continue walking. Mary's suffering is more apparent. Her Son becomes the bridge between the Father and the people by the cross, He is carrying.
---
Reflections and Prayer
From the Bible: Therefore I am content with the weakness, with mistreatment, with distress, with persecutions and difficulties for the sake of Christ; for when I am powerless, it is then that I am strong.
(2 Cor 12:10)
We adore you, O Christ, and we praise you.
Because by your holy cross you hare redeemed the world.
Jesus, as I see you falling, I am aware that you are not completely on the ground. You remain in that position as a bridge, the bond between man and the Father, a bridge that will overcome all obstacles reconciling all who are divided, and healing all who are wounded. You are the High Priest, the builder of a new road, leading us to that union with the Father. Thank you for accepting the cross. Through it, you opened a new road for me.
O Jesus, High Priest, I pray for all who follow you, answering your call. May they be like you, Jesus, ready to sacrifice everything, ready to be a victim for the salvation of mankind.
Jesus, with Mary I pray for my parish priest, for all chaplains, for all priests, especially those who are tired and heavily burdened, those who are not faithful to you, those who have failed, and those leaving the priesthood. I also offer my prayers for Bishops and for the Pope, and for those who are prevented from spreading the "Good News", who are being persecuted because of your Name.
May they know the joy of suffering in love with you.
---
Give grace to your priests so that they may be able to raise in confessions all those who have fallen. May all priests be your image. Amen.
Jesus and Mary, here I also give you my life. All that I have and all that I am, I am uniting with you. I pray to you for love, that love with which you accepted pain. I desire to have it in my heart too. Give me love in my heart so that my heart will be devout, strong and not proud.
---
Message: Dear children! Today I am calling to you to the love which is loyal and pleasing to God. Little children, love bears everything that is bitter and difficult for the sake of Jesus, who is love. Therefore, dear children, pray to God to come to your aid, not however according to your desires, but according to His love. Surrender yourselves to God so that He may heal you, console you and forgive everything inside you which is a hindrance on the way of love. In this way, God can mold your life and you will grow in love. Dear children, glorify God with the canticle of love so that God's love may be able to grow in you day by day to its fullness. Thank you for having responded to my call!
(25 June 1988)
We thank you, O Mary, and we bless you.
Because by your sufferings you helped to redeem the world.
O Mary. I cannot understand the immense pain you suffered because my heart does not love as your heart does. I cannot comprehend the depth of your love, how you desire to bring all people close to your motherly heart, and how it pained your soul to be so helpless and only witness the suffering of your Son.
Have mercy on us, O Lord! Have mercy on us!