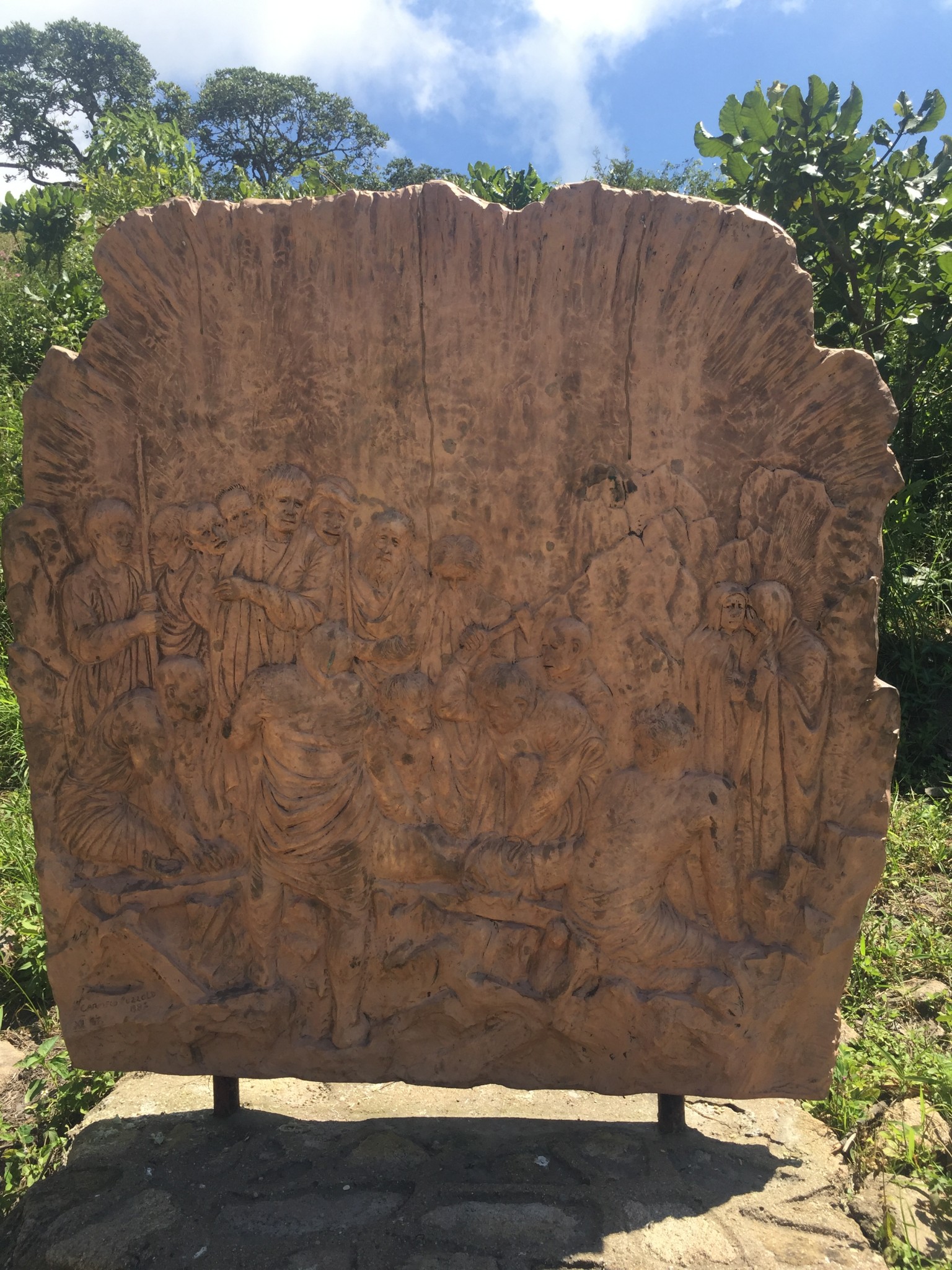 Everything is still, everything is silent. The vibrant blows of the hammer set the scene. Even the guards have finally quieted and help silently, three robust executioners nail Jesus on the cross. Jesus on the cross. Jesus doesn't move. He doesn't cry. From His mouth, dry from the fever, not a word is uttered.
His behavior would be enough to show those present that an innocent man was being condemned. To the contrary, their hearts ae already anticipating the long awaited victory over "The Robbi of Nazareth ", and they don't know—and can't even imagine—that He is praying for them and is predisposing His spirit to the extreme sacrifice. Mary is immersed in deep pain that is wrapped around her like a cloak.
---
Reflections and Prayer
From the Bible: Though he was harshly treated, he submitted and opened not his mouth; Like a lamb led to the slaughter or a sheep before the shearers, he was silent and opened not his mouth. Oppressed and condemned, he was taken away, and who would have thought any more of his destiny? He was cut off from the land of the living, and
Smitten for the sin of his people. (Is53:7-8)
We adore you, O Christ, and we praise you.
Because by your holy cross you have redeemed the world.
In front of the scene of the crucifixion, even your enemies, O Jesus, remain, for at least a moment, in silence. The echo of the blows from the hammer, together with the physical pain you are experiencing, is an icy spectacle. Also your Mother is wrapped in a cloak of by the pain. It is a moment in which neither can console the other.
( Silence )
O Jesus, at this moment I want to express, once more, my gratitude for all that you wanted to accept and bear for us. I desire your pain to have a profound echo in my heart and to touch within me all that still remains obstinate, mean and insensitive. By your pain, create a new heart within me. May the blows endured by your hands open those hands that have been transformed into fists. May your pierced feet stop the way of those who have chosen the wrong path. May they guide them back onto the right path. May your pain, O Jesus, touch every harshness within the family, in the Church and in the world
---
Message: Dear Children! I would like to thank for all the sacrifices and I invite you to the greatest sacrifice, the sacrifice of love. Without love you are not able to accept either me or my son. Without love you cannot pass on your experiences to others. Therefore, I invite you, dear children, to begin to live within yourselves. Thank you for having responded to my calls.
(27 March 1986)
We thank you, O Mary, and we bless you.
Because by your sufferings you helped to redeem the world.
O Mary, through your abundant suffering, make it so that the world will stop being ruthless and that there will no longer be people who are pained, alone and abandoned. May a new world be born. O Mary, through your pain and that of your Son, may new souls and hearts be born, ready to suffer for love, and so redeem a world not yet redeemed. Only love, fed by your love, can become a balsam to the wounds we have inflicted on one another and because of which we have suffered much. May. O Mary, the church of which you are the model and the Mother and of which your Son is the head, become a community of people who love one another closely, that it may soften and redeem the world. I entrust to you particularly the sufferings produced from hate, from the longing of domination over others, from envy, from selfishness and from infidelity. May those who suffer for love always be fortified by love itself, so that they will not
Tire, nor stop, but will be generous and persevering witness of that love which redeems and saves. Virgin of all virgins blest Listen to my fond request:
Let me share that grief of yours. Holy Mother, pierce me through, In my heart each wound renew, Of my Saviour crucified